Uruchomiłem wycieraczki podczas lekkiego przymrozku i od tamtej pory działają mi tylko w dwóch pozycjach 1 i 4[?]- bardzo szybkie. Nie wracają same na swoją pozycję.
Widziałem poradnik naprawy tego mechanizmu. Rozkreciłem wszystko, sprawdziłem przejscia scieżek. Wszystko było ok.
1. Na płytce znajduje sie mały przekaźnik. Nie miałem jak go sprawdzić. Czy to on moze powodować te dolegliwości?
2. Na tarczy przy silniczku jest małą dziurka jakby wypalona w plastiku. Czy tak powinno być? Ponizej zamieszczal obrazek bo nie wiem jak to opisać.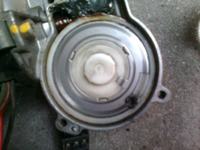 3. Czy Wycieraczki przód i tył są podłączone do tego samego zabezpieczenia [wycieraczki tył nie działają od samego początku-nimi zajmę sie później]?
4.Czy w skrzynce z bezpiecznikami jest jakiś przekaźnik od sterowania wycieraczek?

Samochód to Seicento 2003r. 1.1 Actual

Zdjęcie poprawiłem
Proszę się zapoznać z instrukcją i do niej stosować.
0
0
Translate this post from Polish to English