Witam,
jesteśmy z żoną na etapie poszukiwań pralki ładowanej od góry ponieważ mamy tylko 43 cm na to aby ją zmieścić w łazience.

Poszukiwania zawęziły się do AEG, Boscha i Electroluxa. O Boschu słyszałem, że awaryjne są wyświetlacze/panele dotykowe a naprawy rzekomo są drogie a Elektrolux niby używa łożysk plastikowych. Są to zasłyszane opinie ale nie wiem czy prawdziwe.

Wiem, że AEG to własność Electroluxa ale moje pytanie brzmi czym w takim razie się różnią? Czy to jest jak w koncernie VW (VW dobrej jakości mat. i komponenty >>> Audi lepszej jakości od VW mat. i komponenty)?

Wybraliśmy te dwa modele i proszę o opinię lub ewentualne inne propozycje:
AEG L75260TLP1
AEG L76260TLP
Electrolux EWT 1567VDW
Electrolux EWT 1367VDW
Bosch WOT24254PL (obrazek jest z WOT20254PL roóżnica to prędkość wir. 1200 a 1000 obrotów)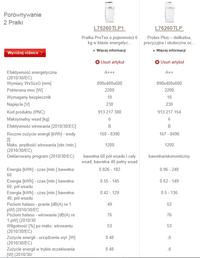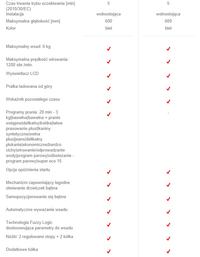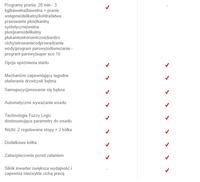 Dzięki za opinie i ew. kontrpropozycje.

Pozdrawiam

P.S.
Dawno temu (zapewne jedne z 1 modeli) rodzice mieli pralkę Whirpool (jakkolwiek się pisze, ładowną od góry), która jakimś cudem po ok +/- 6latach zaczęła podchodzić rdzą w 2ch miejscach. Chciałbym uniknąć takich sytuacji i kupić dobrą bezawaryjną pralkę z przyzwoitym serwisem (koszty ew. serwisu aby również nie były astronomiczne).

P.S. II
Cena: max. 2,3 tyś. zł.
Wsad: 6 kg.
Obroty: 1200 wystarczy.
Pobór energii, wody: A, woda w granicach rozsądku.
Atutem będzie samopozycjonowanie bębna.
Planujemy potomka w przyszłości więc funkcje związane z dziećmi (zabez. itp.) będą mile widziane.

Zaciekawiła mnie funkcja parowa ponieważ np koszule wizytowe po praniu będą miały mniej zagnieceń.
0
0