Witam,

Posiadam laptopa marki acer (intel core i5-3230M 2,60 GHz, 8 GB RAM-u, 64 bit-owy system windows 8, karta graficzna Geforce GT 730M).
Po przywróceniu laptopa do ustawień fabrycznych, wystąpił problem z dużym użyciem procesora, pamięci i dysku w stanie bezczynności. A gdy oglądam coś na przeglądarce to obciążenie dysku osiąga nawet 99%. W grach wygląda to tak, że normalnie mam 70-140 fps na wysokich ustawieniach grafiki ale gdy w grze zaczyna się dziać więcej rzeczy to fps potrafi mi spaść do 20.
Zauważyłem, że w pewnych momentach bardzo obciążają takie procesy jak : host usługi lokalne (ograniczenie sieci), system i antimalware service.
Dodam jeszcze, że windows update mam zaznaczony na "wyszukaj aktualizacje ale pozwól mi zdecydować czy je pobrać i zainstalować.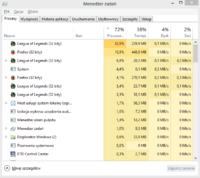 Proszę o pomoc.
0
4