Witam wszystkich zainteresowanych tematem modyfikacji, usprawniania działania i wzmocnienia bezpieczeństwa pracy na routerze Huawei b593-s22.
UWAGA !!!
Jeżeli jesteś posiadaczem tego urządzenia powinieneś NATYCHMIAST zmienić hasła dostępu CLI w swoim urządzeniu - firma Huawei stosuje jednakowe domyślne hasła dla tej samej serii urządzeń - jest to bardzo NIEBEZPIECZNE i lekkomyślne podejście producenta narażające cię na dostęp osób niepowołanych do twojej sieci !!!
Kilka zdań Off-topic:
Opracowuje zgrabną aplikację do modyfikacji zarówno firmware jak i zarządzania zdalnego tego routera, jednakże jest to duży projekt, a że zajmuje się tym hobbystycznie to i czasu nie mogę mu poświęcić tyle ile bym chciał. Teraz nadchodzi wiosna więc następny miesiąc spędzę na działce (300m2 i "amerykanki" już czekają). Postanowiłem więc opisać procedurę dekodowania pliku konfiguracyjnego oraz haseł dostępu do urządzenia w trosce o bezpieczeństwo użytkowników sieci.
Do rozszyfrowania pliku: downloadconfigfile.conf potrzebny ci będzie:
OpenSSL
.
Do rozszyfrowania haseł polecam darmowy:
BP-Tools
Proponuje BP-Tools bo OpenSSL sprawiał problemy na moim komputerze (a to nie mógł otworzyć/odnaleźć pliku, a to trzeba mu było utworzyć plik konfiguracyjny), a poza tym jest to aplikacja z wiersza poleceń.
Przejdźmy do rzeczy:
Aby rozszyfrować plik konfiguracyjny wystarczy polecenie:
openssl enc -d -aes-128-cbc -in downloadconfigfile.conf -out downloadconfigfile.xml -K 3E4F5612EF64305955D543B0AE350880 -iv 8049E91025A6B54876C3B4868090D3FC -nopad
Aby zaszyfrować:
openssl enc -e -aes-128-cbc -in downloadconfigfile.xml -out downloadconfigfile.conf -K 3E4F5612EF64305955D543B0AE350880 -iv 8049E91025A6B54876C3B4868090D3FC -nopad
Jak łatwo się domyślić algorytmem jest tu AES 128 CBC Key:3E4F5612EF64305955D543B0AE350880 ; IV:8049E91025A6B54876C3B4868090D3FC .
Trzeba jednak uważać na rozmiar pliku - musi to być wielokrotność 16 bajtów -> Huawei stosuje niekonwencjonalną metodę jak na AES CBC, a mianowicie ZERO "padding" (gdy zmienisz rozmiar pliku przyda ci się jakiś HEX edytor by dodać kilka "00" na końcu pliku - tak aby rozmiar w bajtach podzielony przez 16 nie dawał reszty).
===================================================
Rozszyfrowywanie haseł z pliku konfiguracyjnego:

Rozszyfrowany plik konfiguracyjny jest formatu *.xml, a więc do edycji potrzeby będzie jakikolwiek edytor tekstu... Powyższy "print screen" obrazuje fragment tego pliku z domyślnymi hasłami dostępu do WebGUI routera - dla konta "admin" zaszyfrowanym hasłem jest tu:
f3nGyuud1GOwq4E1LtMDbWcQgRAK3uxuUf+Ezxi0qq6OXeW9/qX22A==
.
Przystępujemy zatem do deszyfracji:
1. Z menu "Generic" programu BP-Tools (Cryptographic Calculator) wybieramy 'Base64' :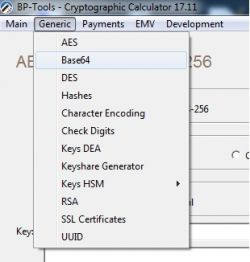 i dekodujemy nasze hasło do postaci szesnastkowej: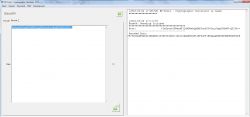 2. Z menu "Generic" programu wybieramy 'DES' ( '3DES' , 'CBC' , 'Heksadecimal' , 'Padding: None' ). Klucz do deszyfracji to:
K:3E4F5612EF64305955D543B0AE3508807968905960C44D37
;
IV:8049E91025A6B548
. Deszyfrowany będzie ciąg HEX z poprzedniej operacji, a więc: 7F79C6CAEB9DD463B0AB81352ED3036D671081100ADEEC6E51FF84CF18B4AAAE8E5DE5BDFEA5F6D8 :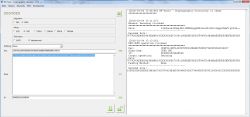 3. Z menu "Generic" programu wybieramy 'Character encoding' -> 'Heksadecimal->binary' i en-kodujemy dane powstałe po deszyfracji "3DES", a więc: 63585268636B5A534E4667363976424E4A53494865426C7948456C583951345643513D3D00000000 :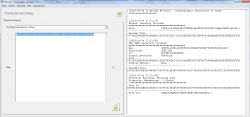 4. Powstały ciąg znaków (Base64) należy PODZIELIĆ na 2 części -> w pierwszej części należy użyć 12 (!!!) znaków : cXRhckZSNFg6 ; w drugiej części znaki pozostałe : 9vBNJSIHeBlyHElX9Q4VCQ== .
Z menu 'Character encoding' wybieramy 'ASCII Text -> Heksadecimal' i en-kodujemy znaki osobno dla dwóch części: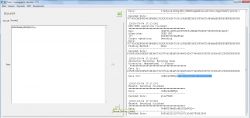 5. Pozostając w 'Character encoding' - 'ASCII Text -> Heksadecimal' w polu 'Data' wpisujemy liczby od 1 do 8 na końcu których dodajemy en-kodowane znaki z pierwszej części (8 znaków, ':' pomijamy) poprzedniego punktu, a więc w tym przypadku całość to: 12345678qtarFR4X :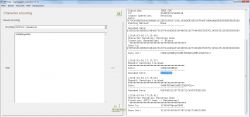 6. Posiadając wystarczającą już ilość danych z menu "Generic" programu wybieramy 'AES' ('AES-128' , 'ECB" , 'Hexadecimal'). Kluczem jest tu ciąg heksadecymalny z poprzedniego punktu (12345678qtarFR4X), a więc : 31323334353637387174617246523458 . Rozszyfrowany będzie ciąg heksadecymalny z drugiej części (patrz punkt 4. 9vBNJSIHeBlyHElX9Q4VCQ==), czyli : F6F04D2522077819721C4957F50E1509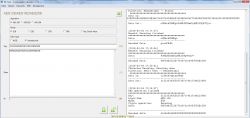 7. Na koniec z menu "Generic" programu wybieramy 'Character encoding' -> 'Heksadecimal->binary' i en-kodujemy uzyskaną wartość, tj.: 61646D696E0000000000000000000000 do znaków ASCII i tak oto uzyskujemy hasło (w tym konkretnym przypadku) admin ("00" pomijamy !!!)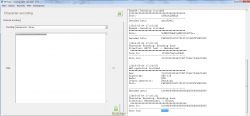 ===================================================
Chcąc zmienić obowiązujące hasło na routerze należy postąpić w odwrotnej kolejności z tym, że :
-należy utworzyć sobie unikalną kombinację ośmiu znaków (małe i duże litery + cyfry) będzie to druga połówka klucza do szyfrowania AES ECB (pierwsza połówka to 12345678 i tak ma zostać),
-wymyślić/wygenerować unikalne hasło (max 16 znaków - w przypadku krótkiego hasła do postaci heksadecymalnej należy uzupełnić "00" zerami do łącznej długości 16 bajtów),
-na etapie szyfrowania '3DES' -> "Data Input" = 'ASCII' -> "Padding Method" = 'Zeros',
-jak wszystko pójdzie dobrze to zakodowane nowe hasło będzie długie na 56 znaków i należy je nadpisać w odpowiednim miejscu pliku konfiguracyjnego.
Do tego tematu załączam log z całej operacji (log zawiera również kroki odwrotne tj. szyfrowania hasła) ... na pewno będzie pomocny.
Zachęcam użytkowników forum biegłych w tworzeniu plików wsadowych, programów w językach wysokiego poziomu do ogarnięcia tematu dla mniej świadomych tematu użytkowników.
Sam jestem zwolennikiem asm, co najwyżej ANSI C , a mój projekt jest dość rozległy i kilka miesięcy jeszcze mi na jego opanowaniu zejdzie.
UWAGA !!!
Znając hasło do CLI routera możesz konfigurować urządzenie poprzez "ATP/shell/AT commands" nie polecam tego jednak, gdyż może to doprowadzić do uszkodzenia systemu operacyjnego urządzenia - takie urządzenie będzie trudne w naprawie o ile w ogóle da się je naprawić. !!!
P.S.
Jedynie hasła do WebGUI oraz CLI są zaszyfrowane jednocześnie algorytmami 3DES oraz AES_ECB... Pozostała część haseł wymaga jedynie użycia algorytmu AES_ECB -> "log" z rozkodowywania przykładowego hasła do Wifi poniżej: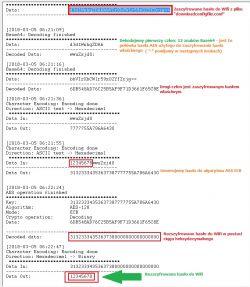 Pozdrawiam.