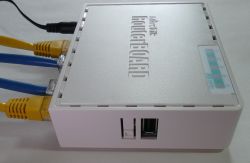 Czy sprawdzaliście ile "niechcianego" ruchu z internetu przychodzi do urządzenia z publicznym adresem IPv4? W domowych warunkach takim urządzeniem "wystawionym na Świat" może być router, laptop, lub np. telewizor. Na interfejs urządzenia z publicznym adresem IP poza komunikacją, którą sami inicjujemy będzie trafiał ruch z automatycznych skanów i prób ataków. Dla osób pracujących w firmach udostępniających usługi sieciowe, monitorowanie i analiza ruchu sieciowego to codzienność, poza zautomatyzowanym rekonesansem mogą pojawić się ataki APT, DDoS. Czy w warunkach domowych uda się zauważyć podejrzaną aktywność sieciową przychodzącą z internetu do interfejsu urządzenia?
Do wykonania eksperymentu zainspirował mnie :
wyświetlacz LED sterowany pingami (ICMP) na adresy IPv6.
Autor w poprzedniej edycji sterował oświetleniem choinki również przy pomocy pingowania adresów IPv6. Zastosował router Mikrotik, który przesyłał z firewall komunikaty syslog (już po IPv4) do Arduino sterującego LED WS2812B. Ponieważ opisany tutaj router:
Mikrotik hEX RB750GR3
został wymieniony na inny "mocniejszy" i zakończył pracę produkcyjną, można go było wykorzystać do eksperymentu. Logi z firewall można zapisać np. na karcie SD ( w tym routerze jest to disk2) i później poddać analizie. Router został wystawiony na dawno nie używanym publicznym adresie IPv4, zobaczymy jaki ruch z internetu będzie przychodził do urządzenia. Wykorzystany adres IP od dawana nie był związany z żadnymi usługami, więc możemy liczyć na pojawianie się w głównej mierze ruchu związanego z automatycznym skanowaniem podatności.
Etap 1 - "stealth mode" - nasłuchujemy pakiety przychodzące.
Na początek cały ruch przychodzący na interfejsie WAN został zablokowany, zdarzenia są logowane na kacie micro SD.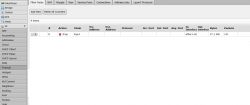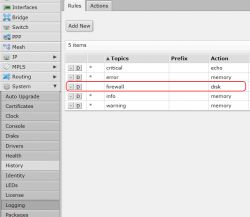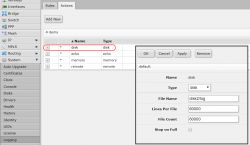 Na interfejsie pojawiają się automatycznie skanowania portów, bardzo popularne są interfejsy zarządzające telnet, HTTP, SSH, ale pojawiają się także bazy danych, pulpity zdalne, a także porty urządzeń VoIP. Najpopularniejszy jest telnet. Głównie jest to skanowanie otwartych portów, ping jest sprawdzany bardzo rzadko. Podobnie brak intensywnego skanowania np. usług SMB Microsoft lub NFS Linux. Automatyczne skany celują głównie w sprzęt routery, telefony IP, drukarki, oraz usługi sieciowe i usługi dostępu zdalnego np. RDP. Poniżej najpopularniejsze sprawdzane porty w ciągu 24 godzin próby.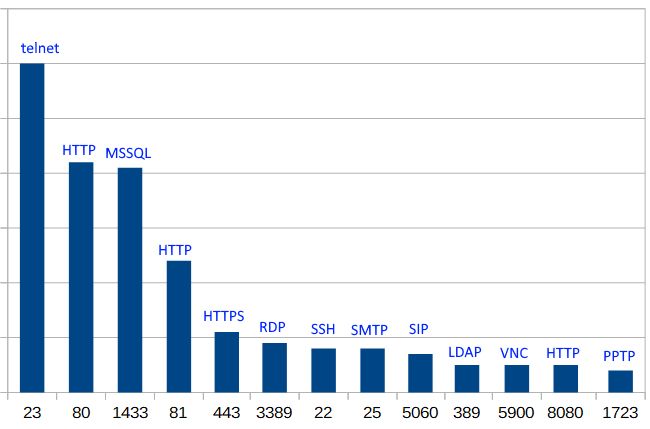 Etap 2 - odpowiadamy na ping.
Zobaczmy czy odpowiedź na ping, w jakikolwiek sposób wpłynie na ruch przychodzący do routera.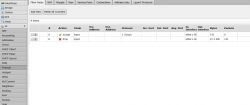 Tutaj zaskoczenie, odpowiedzi na ping nie zwiększyły znacząco przychodzącego ruchu ICMP, ilość skanowań portów była nieco większa, oraz nieznacznie zmieniła się charakterystyka najpopularniejszych portów, telnet nadal na pierwszym miejscu. Pingowanie jest wykonywane dość dyskretne, znacznie bardziej popularne jest skanowanie konkretnych portów.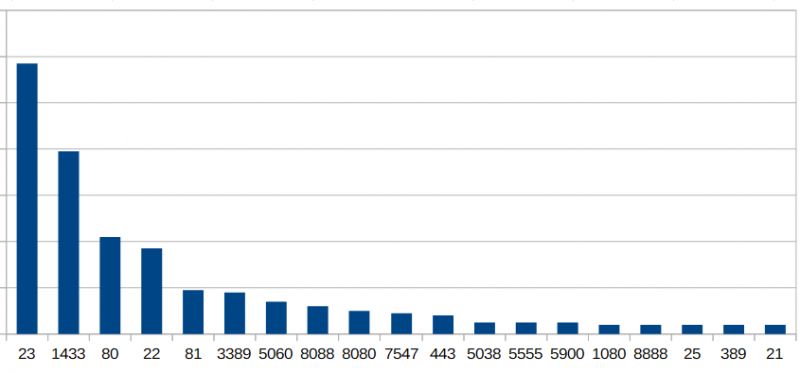 Etap 3 - udajemy dostępność telnet.
W przychodzącym ruchu pojawiały się liczne próby dostępu na port 23, z którym często wiąże się usługa telnet.
Przekierujmy port 23 na interfejsie WAN routera na adres urządzenia (np. Raspberry Pi) za NAT na którym będzie działał skrypt w python 3, udający możliwość logowania się do telnet nasłuchując na porcie 2323 (przekierowanie z portu 23 na interfejsie WAN routera).

Ruch przychodzący na port 23 pojawia się falami z pojedynczych adresów IP, do symulowania dostępności telnet wykorzystamy prymitywny i napisany na szybko, jednowątkowy kod w python, kod załączony poniżej.
W sieci znajdziecie bardziej zaawansowane honeypoty, np. honeypot udający możliwość zalogowania poprzez telnet się i wydawania poleceń:
https://github.com/stamparm/hontel
autorowi udało się zarejestrować aktywność polegającą na próbach dołączenia symulowanego urządzenia do botnetu.
Podobny projekt także tutaj:
https://github.com/Phype/telnet-iot-honeypot
W statystykach widoczne jest znaczące zainteresowanie otwartym portem 23. Początkowo port był skanowany tylko dla sprawdzenia czy jest otwarty, lub były wysyłane dwa "entery" dla login i password. Po pewnym czasie pojawiły się próby logowania z wykorzystaniem popularnych nazw użytkownika typu 'admin', 'root', oraz pustego hasła lub haseł typu:
admin, password, pass, 12345, 54321, itp. hasła domyślne producentów.
Pojawiały się także znacznie bardziej skomplikowane loginy oraz hasła, być może są to hasła występujące na stałe w niektórych modelach sprzętu. Niektóre dane sugerowały zainteresowanie atakujących kamerami i rejestratorami IP.
Taka tylna furtka może się pojawić z różnych powodów, np. obecność w kodzie produkcyjnym pozostałości po fazie testów, które ktoś zapomniał usunąć, lub furtka która pozwala na odzyskanie dostępu do urządzenia gdy zgubimy wprowadzone hasła, np. z wykorzystaniem specjalnego oprogramowaniem producenta. Czasami taki awaryjny dostęp wystawiony jest na nietypowy port, lub korzysta z nietypowej nazwy użytkownika. Są to przypuszczenia, skąd w próbach ataków pojawiły się takie złożone hasła, trudno jednoznacznie powiedzieć.
Tak wygląda statystyka popularności sprawdzanych portów po otwarciu telnet: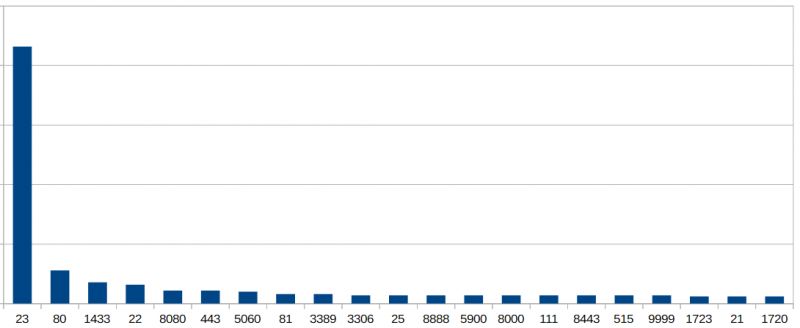 Często widzę, że ktoś podłącza do internetu urządzenia z domyślną konfiguracją "na chwilę" aby zrobić jakiś test. Lepiej tak nie robić, akurat możemy trafić na moment skanowania, a nasze urządzenie może być podatne na taki atak. Mniej zaufane urządzenia warto schować za NAT i odpowiednio skonfigurować firewall. Jak będzie wyglądał niechciany ruch w erze IPv6 gdzie każde urządzenie może dysponować publicznym adresem IP?
Czy macie dostęp do statystyk odrzuconego ruchu na interfejsach WAN, czy zauważyliście tam coś ciekawego?
Cool!
Ranking DIY